School District of Lancaster
The School District of Lancaster is has a large and diverse audience made of students of different ages, parents/guardians of current students, prospective parents/guardians, educators/staff, taxpayers and local businesses. A custom website provided an almost unlimited amount of layout and design options to communicate their different needs in a consistent manner to that diverse audience.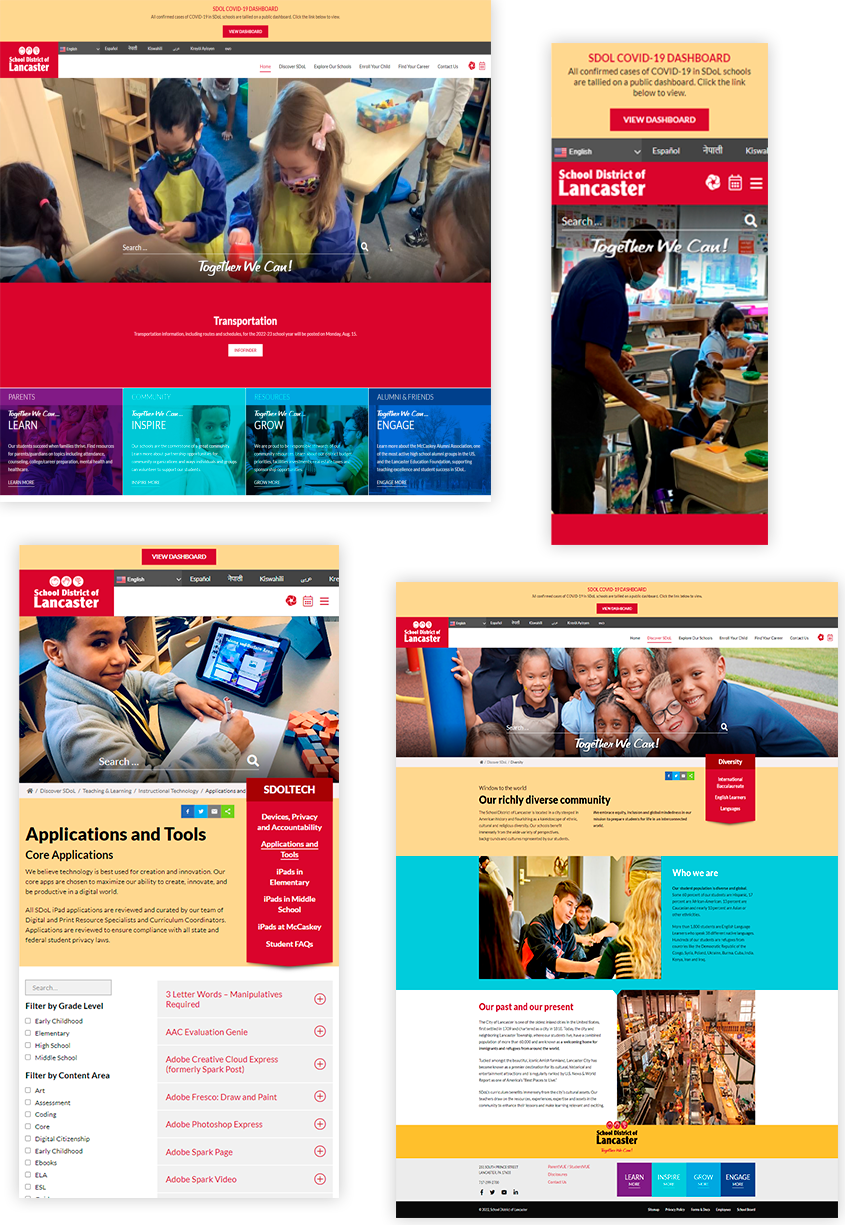 The School District of Lancaster needed to reach a variety of audiences including students of different ages, parents/guardians of current students, prospective parents/guardians, educators and local businesses. Before development, a planning phase was conducted to review the needs of several departments/stakeholders to learn what they felt was missing from their old site and what they audiences needed to find. Their website analytics were reviewed to look for support of those hypotheses which also uncovered additional needs. The new site's plan included a vastly different Information Architecture which has made the site more user friendly. A branding goal was to use bold photography and color to communicate the diversity of the student population as well as the diversity of the resources available. This website uses a custom theme created by iComm with an immense amount of templates and flexible options for a large staff to manage with specific administrator roles. Special tools were created to manager information which often has front-end interactivity for students and parents.
Custom Design
Responsive Design
Custom WordPress
PHP
Multiple Third-Party Application Integrations
Custom Forms
Automated Language Translation
Interactive Content Filtering
Website Analytic Goal Setup
Visit the Site
Let's talk about it.
Complete the form and we contact you to set up a time to talk about your needs.
"*" indicates required fields
Responsive, reliable, thorough, and professional, iComm is a pleasure to partner with for all things digital. With fresh, responsive designs, websites that work for the users, and the latest technology to help delight stakeholders, the iComm team makes sure solutions work for your specific situation and enterprise. They work first to understand your business, your sector, your competitors and craft custom solutions on time and on budget. They deliver and they follow up. Plus they're wicked smart. And cool.